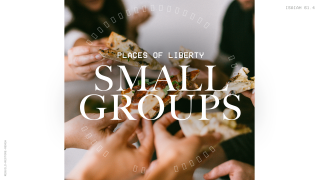 Creating places and spaces to belong, grow, connect and find freedom in God.
Back at the start of Liberty Church being birthed, a prophetic word was spoken into out house around 'Places of Liberty'.
Alongside our "Sunday expression", we have 'Places of Liberty' in the form of small groups taking places all over our city and further! They are a great place to build friendships, grow in faith, be involved in the life of the church and also invite friends to!
For all the details about how small groups run etc. scroll to the bottom of this page.
Our Autumn 2022 groups start week beginning 26th September and end week beginning 28th November. Click on the link below to see all the groups and sign up today!
All the details
So how do the groups run?
Our groups run in 'terms' throughout the year (Oct-Nov, Jan-April, May-July) for approx. 10 consecutive weeks. Each term may have similar groups running or completely new ones to sign up to! Our small groups are a great place to build friendships, grow in faith, be involved in the life of church and also invite friends to!
What goes on at a small group?
Whether you choose a group in an evening at someone's home, one of our groups for the whole family or our lunchtime group, you will find they are great opportunities to get to know one another, build great connections and friendships, pray together and spend time in God's Word.
How do I choose a group to join?
You can join a group based on location, day, time etc. The choice of group you join is completely up to you! As most of our groups have limited space, we ask that when signing up for a group you give your 2 preferred options. This means we can make sure everyone has a group that they can join!
How do I sign up for a group?
The best way is through our website www.libertychurchuk.com/placesofliberty. Alternatively you can drop us an email at [email protected] or call 07943 501 007 for more information and to sign up.
Can I attend more than one group?
For this term, we would ask you to commit to one group for the 9 weeks.
What happens after I have signed up?
Throughout the week leading up to the start of the groups, you will be contacted by your new group leader(s) to welcome you to the group. This week allows us time to administer all the sign ups and make sure people have a group to attend for the term.